Post by ShakerNorm on Mar 19, 2011 19:45:39 GMT -5
Well - I haven't seen much info about these, but they look like the bomb for our old bikes. I'm going ahead with converting my 79 for an HID headlight setup, so you're invited to follow me along, if you're interested.
The stock headlight was weak when they put it in (probably because the electrical system couldn't handle anything more powerful), but it's almost an embarrassment, now.
I've converted every bulb on my old '79-2F0 to LED's, now, and I've also done PamcoPete's mods to my alternator (I'm running an Mopar-style VR) and bridge rectifier setup, so my alternator is now running pretty healthy. With a new wiring harness in the bike, I think the last improvement to make is a decent headlight so I can see where I'm going at night, as well as during the day. With the power that I've "saved" using LED's, I was confident it could handle a better headlight.
I was so confident in the system that I plugged in a 55W/65W halogen headlight. What a difference from the old 40W/50W light that's been on it since I bought it 10 years ago..... But I ride on a dark highway at 1am - I wanted more light.....
Now it's time to take care of that - since the halogen runs at 55W/65W, I'd love to drop the power consumption on the headlight, too. Looking into HID lights, there are several conversion systems out there but some can be VERY expensive - I saw one on BikerTV that was almost $900 for a SINGLE bulb - of course that was for a Hardley-D, but I didn't pay that much for my whole bike!
I did find out that one of the guys I work with is a distributor for HID conversions here in town, and several guys in the shop have bought them and are quite happy with them. So after talking with him - it's $80 (Cdn), for a single system for a bike, but I have to supply the housing for an H4 style bulb. No problem - I'd MUCH rather have an H4 setup on the bike, anyway - I much prefer the light pattern that it affords - focusing the light on the road where I want to see it - and not in the eyes of oncoming drivers, where it creates a major hazard.
After doing some looking around, I bought one from a dealer on EvilBay for $15. It is an H4 light, but with a "crystal" style lens, rather than the older prismatic style. I like the look, but you could use either. Here's what I bought, along with the original: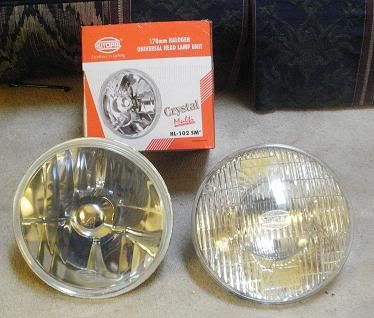 .
Well, the diameter is the same, and the mounts and plugs are the same, but I may have a slight problem.....
When I compared the backside of the lights, I noticed that the H4 is considerably deeper than the original..... I'm not sure it's going to fit in my original (steel) headlight bucket, but I'll try it.
If not - I bought another headlight bucket from an 82 - it's plastic, and has an extended back, so it should fit the light and all the original wiring that also has to fit in there. I'll let you know......