Post by mashermoto on Nov 7, 2006 23:04:44 GMT -5
OK guys, I'm starting out as fresh road kill for ya. Here are some pictures of my host bike for my first street tracker project.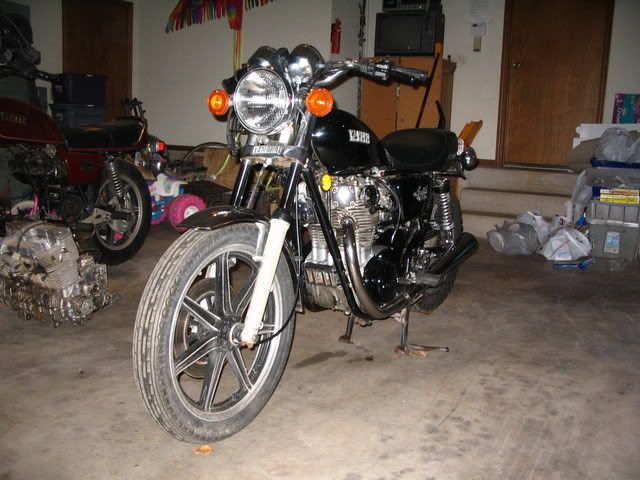 It's clean enough that I almost hate to tear it down
but I'll get over it

The previous owner had already made some good improvements, like powder coated side cases, K&N filters, pipes of some type, new petcocks and handle bars.
The seller also provided plenty of extras, like brake rebuild kits, gasket kits, new handle bar grips, new coils, new points, all the original parts that were replaced and an extra 650 standard tank.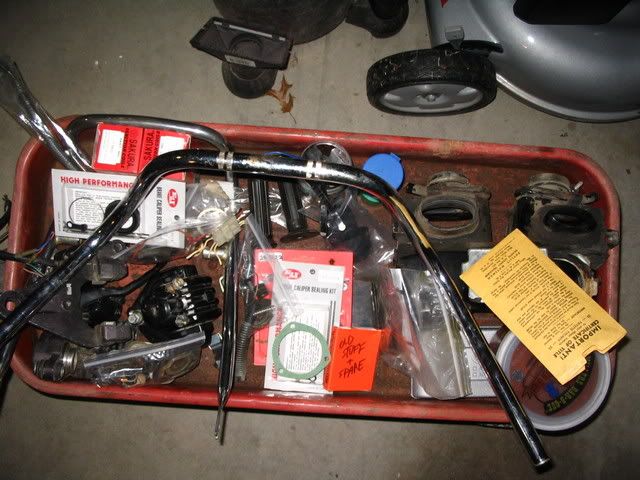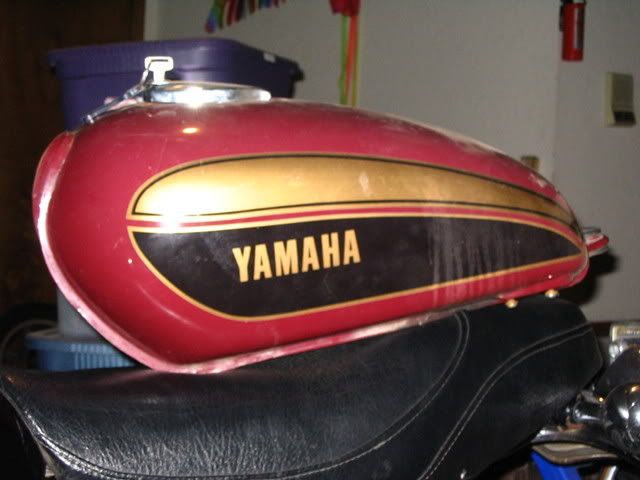 My Hotwing rear fender and seat are on their way. My next step is to see if I can get it to start before I do the tear down.
Now my bonus pictures

A few weeks before I bought the 650, I went to meet a guy way out east of Oklahoma City about what I thought would be a 650 twin. Turned out to be a 650 4 cylinder
BUT he also had a 1978 XS1100 (first year) that was complete, but the engine was out and most of the parts were spread out on the floor
PLUS he had a 1979 XS1100 Special except for the frame that was to be used for parts
We agreed on a price I thought was fair so I took it home

The XS1100 Standard is all there, so it seems to me the best way to go is restore it closer to original. But the XS1100 Special could be more fun. I know it is outside the genre, but what do you guys think of a XS1100 street tracker

It would probably handle like an WWI Army tank, but it might look cool, and would definitely light up the road. The XS1100s are road burners to begin with. Ought to be real fun to ride after a Crew Chief Jack style port job
Here is my last bonus photo. I call it my Big Green Ugly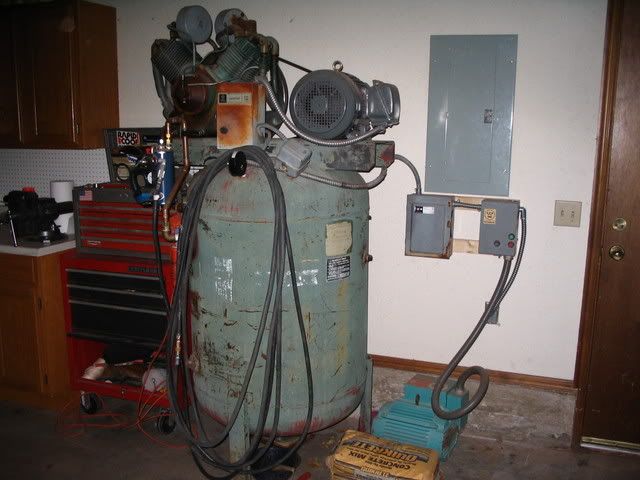 It's a Champion R30C air compressor. I spotted it in the back yard of a guys acreage. Just sitting there in an open field with no cover getting rusty. So I offered him $125 bucks and brought it home. Let me tell you, that is the heaviest chuck of steel I have ever tried to move
I have to use an engine hoist to remove the compressor motor and electric motor. Then I chain the tank and move it. I had to replace the valves (super easy and cheap to do) and purchase a new electric motor. A friend sold me that 3 phase converter you see on the floor to the right for a $100 buckers (also an exceptional deal). Hooked everything up and it has worked great

Man, when the relay kicks in to fill the tank, I can be using an air grinder and the compressor will drive the tool and still fill the tank. Usually the first question people ask me when they see Big Green Ugly in my residential garage is, "What are you going to do with that?" I just tell them...anything I want ;D
OK, once again I gave you guys a drink from a fire hose, so I'll shut er down here.
If you get a chance, let me know what you think.